CTS Ninja Warrior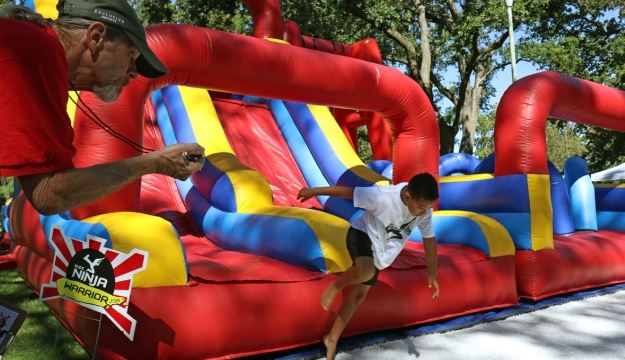 Friday, 2.23 at 4:30 pm, Chapparal Park
Event Chairs: Ilaria Borden at ilaria_borden@yahoo.com or Jason Hersh at jason@surroundsolutions.com. If you have any questions please email us.
Day of Event Details
Click HERE to download very important Day of Details
Parking Directions, click HERE. 
Sneak peek of the race courses, click HERE.
You can help even if you CAN'T attend!  Raise pledges in person OR online: 
We opened some additional sponsorships!!   ONLY 6 open!  Bodyweight Obstacle Sponsors for only $150!   Your kids would love to see your family name or business on the course.
Log Into your PTO account now to reserve one now before they sell out!
VOLUNTEERS!!  We can't make this happen without your help!  Sign up now
Middle Schoolers get service hours AND free full dress down day at school!

BREAKING NEWS!
American Ninja Warrior Coming to CNW 2018!
American Ninja Warrior Adam Rayl confirmed to be there next FRIDAY!!
He will be on site to hand out awards, sign autographs and cheer our Cheyenne Ninjas on!  
Click HERE to see his Ninja run
What is the 2018 Cheyenne Ninja Warrior?
Squads of Ninjas (students), plus designated Masters (chaperones), will compete at Chaparral Park on Hayden just North of Chaparral Rd., against other Squads of Ninjas in their own grade level on an obstacle course designed to challenge our Ninja's mentally, physically and their ability to work as a unit.
The course(s) will be designed to have fun for all ages; three courses of inflatable obstacles and bodyweight exercises. It will be a battle of ENDURANCE and packed with PHYSICAL CHALLENGES of STRENGTH that will test the breaking point of even the seasoned Ninja. Please prepare your Ninjas and have them dressed for a true Warrior Experience!
Squads of Ninjas will compete by completing pre-selected elements (physical challenges and obstacles) per grade in a timed and shotgun start manner. Your squad's goal will be to complete the obstacle as many times as possible during the set time period.
Points will be given to the winning squads throughout the event. These points will be tallied at the end to determine our Top squads to compete in the Battle of Champions.
The Top Squads and their Masters will be called to compete in the Battle of the Champions on our very own Mt. Midoriyama Course to determine our Champion Ninja Warriors in each grade.
The course will take 2 hours to complete and an additional 30 min to crown our champions. You are not obligated to stay if your squad is not selected.
Multiple courses have been designed to ensure the best experience for our Ninjas. Based on total Registration Courses will be divided by Grades (i.e. Pre-K-1, 2-4 and 5-8). The Final course(s) and grade division will be determined by total Ninja registration.
All elements will be manned by CTS teachers and parent volunteers to ensure familiar faces as our Ninjas arrive.
Families – Please rest assured we designed the courses to be exciting and challenging but not at the risk of injury or extreme difficulty. Obstacle and Physical Challenges will be no more difficult than anything your Ninja would do at school recess or at Harvest Fest.
This is a Private event for CTS Ninjas, Students, faculty and families.
There will be two Chaperone designations – Pavilion or Master. Pavilion Chaperones do not have to compete or facilitate a squad on the course. Master Chaperones please come prepared as you will be competing with your squad of Ninjas.
THIS IS NOT a drop-off event. All Ninjas and students must have an adult on site.
Ninjas and their Masters need to arrive at Chaparral Park, for check-in, at 4:30 pm on the day of the race.
Valet Service will be provided (Tip not included) with limited parking – First come First Serve. More information on parking to be provided as we get closer to the event. Shuttle service will be provided by a nearby lot. We recommend Uber or Lyft if convenient due to the limited parking.
All Ninjas and Masters must be present at the Ninja Pit by 4:45 pm for Kick Off Instructions. Squads will transition from the Ninja Pit to their predetermined elements and await the Starting horn to begin the event.
All ninjas will receive a finisher headband upon completion of their course.
Water will be provided on the course
The event concludes with an awards ceremony for the Champion Ninja Squads and their Masters. Squads will receive a Champion, Elite, and Top Finisher award.
Post-event festivities will continue until 9:00 pm with a DJ and food options. There is an "adults only" beer garden! Please plan ahead for smart transportation home for you and your family. 

How do I participate?
Each Ninja must complete an event registration ONLINE in their family account, select "register for current events" from the pull-down menu "What you like to do?", Complete the Ninja's registration and acknowledge the emergency information and indemnifications waiver, by February 7th.
The minimum registration fee/pledge for each Ninja is $45.00 and includes an event Shirt/Bib, Finisher Headband, admission and the Ninja's dinner.
Any CTS students can collect pledges, to help their class raise the most pledges, even if they are not able to attend the event. You can collect pledges in person or online via a personal Pledgestar account. More information to come on this.
Pledges are not due until February 1st.
Prizes will be awarded to individuals and the class with the overall highest pledge amounts

Sponsorships
Want your family or business to be part of the event?
Contact Ilaria Borden or Jason Hersh regarding the Sponsorship opportunities that are still available? January 31st is the deadline to verbally commit and submit your logo.
Please email Ilaria Borden at ilaria_borden@yahoo.com or Jason Hersh at jason@surroundsolutions.com
Click HERE to view the Sponsorship Information.
How are teams formed?
Pre -K – 4th Grade: Ninjas can make ONE friend request for another Ninja in their same class. We will try to accommodate requests the best we can, but they are not guaranteed. The balance of the squad will be randomly drawn from the same classroom and put into squads of 5 ninjas. The squads will then reviewed by their teacher and any suggested changes will be made at that time. After the squads are drawn there will be NO changes of squads.
5th – 8th Grade: Ninjas may build their own squads. Squads must consist of at least 5 ninjas not to exceed 6. Those teams should be submitted to ctscnw18@yahoo.com by Feb 6th. All Ninjas listed on a squad must be already registered. Squads with 6 ninjas will have the advantage of endurance. All squads will be timed and scored in the same manner regardless of squad size. Consider this when forming your squad.
Based on total registrants the CTS-CNW Event Committee may be required to change the total number of ninjas per squad. All squads will be notified of changes prior to the event.
We are looking forward to this new and exciting Cheyenne Event!