Fry's Cool Cash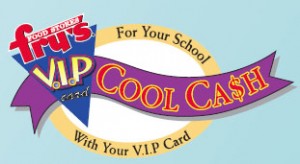 What is the Fry's "COOL CA$H" Program?
"COOL CA$H" is a program for state-registered schools to earn CASH! For every $50,000 in V.I.P purchases, Fry's Food Stores will mail a $500 check to the school to spend as they please. Each school can earn up to $2,000 in rebate checks.
What does it cost to participate?
Nothing. Participation is absolutely FREE!
Which schools are eligible to participate?
Any public, charter, private, non-profit accredited or home school (K-12 grades), may participate. Schools must be accredited by the State Board of Education or an equivalent agency.
How does my child's school enroll in "COOL CA$H" 2012-2013?
The designated "COOL CA$H" coordinator must contact Fry's to enroll their school.
If my school participated in this program last year, do we need to enroll again?
Yes, all schools need to enroll every year.
How does my child's school get credit for my Fry's V.I.P purchases?
Present the barcode to the Fry's cashier. The cashier will scan your school's "COOL CA$H" barcode and your V.I.P card, which will automatically attach the school to your card.