Welcome Committee
Are you new to Cheyenne or know someone who is?
The Cheyenne Welcome Committee is available to help you and your students feel welcomed and prepared for your first day at Cheyenne Traditional School. We are here to be a personal resource to answer your questions and to provide support throughout the school year.   We can assist in finding a buddy for your child as they transition to Cheyenne, explain ways to get involved on campus, and to meet other Cheyenne families. Click on the links below to find your Welcome Committee Parent Contact and our Back to School Checklist.  We look forward to meeting you.
Welcome to Cheyenne!
Rachel Alzubi, Welcome Committee c0-chair
Samantha Greeban, Welcome Committee co-chair
Upcoming Events
Back to School Event
Wednesday, August 2nd at 5 – 7:30 pm  – in Cheyenne Cafeteria. Get more information about supplies, lunch money, clubs, activities, after school program, purchase CTS spirit gear, join PTO and much more! Meet your teacher! Classrooms will be open from 5:30 – 7 pm! Plan to bring school supplies that are being donated to classroom and make sure you tour the campus with your student. For more information visit our Back to School page.
New Parent Meet & Greet
Join us for one or all of our Meet n Greets. It's a perfect place to meet new friends and ask any and all questions about Cheyenne. We will meet off campus at AJ's (FLW & Thomasonpeak), right after drop off at 8 am on the Patio.  You can contact Rachel Alzubi or Samantha Greeban with any questions.

  Monday, August 7th (8 am, in the library)

  Friday, September 8th (8 am at AJ's)

   Friday, October 20th (8 am at AJ's)
Parent Spalding Training
Thursday, August 17th – New Parent Spalding Training in the Cheyenne Library at 8 – 9 am.
Committee Members
Committee Members:
Pre-K – Kimberly Thurston
Kindergarten – Nichole Stine     
1st Grade – Rachel Alzubi
2nd Grade – Tina Winkler
3rd Grade – Hanan Shamoun
4th Grade – Samantha Greeban
5th Grade – Niki Randall
Middle School (6th – 8th) – Jill Schnitzler and Erin Curley
Important Links
Back to School Check List (click to download)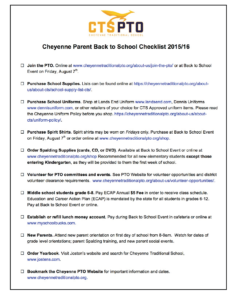 Welcome Letter (click to download)